SMS marketing can produce great results for brands that use it.

Text messages have high open rates and there's plenty of data to suggest that customers want to receive offers via text. It's one marketing channel that, at this point, is still much less crowded than email.

The "catch" is that you can't simply start sending out SMS marketing messages. You must build up a text list that customers have willingly opted into, otherwise you can fall afoul of the law.

How can you convince people to opt in for text messages? Here's what I've learned:
What drives people to opt in?
One of the questions marketers always want answered is, will people opt in? What will compel them to do so? We know from various studies on text marketing that people will opt in – 48% indicated that text is their preferred channel for brand updates.

What makes people opt in? The bottom line is that they need a good reason, a "what's in it for me?" OptinMonster talks about how all humans have psychological and emotional triggers that drive our decisions and actions. Those triggers can be applied to what might drive someone to opt in. For example:
Social proof – Many people like to follow what people who are similar to themselves are doing.
Scarcity – Anything that is limited by the time it is offered or the number that are offered can prompt people to make a move. The caveat is don't use this all the time, or for anything that is not actually scarce. People will quickly pick up on that.
Community – By nature, most people want to connect with other people. It makes us feel more secure.
FOMO – Good old fear of missing out! Maybe hot deals will be offered first to text subscribers, driving more opt-ins.
Exclusivity – Many people like to feel that they're part of an exclusive group and privy to prime offers.
Filling a knowledge gap – People often feel compelled to fill their knowledge gaps and get answers to their burning questions.
Fulfilling a basic need – Maslow's hierarchy of needs theory describes a pattern through which human motivation generally moves. The needs at the bottom of the pyramid are the most basic and pressing, while as needs are satisfied, the next level becomes the most pressing need.
Define your own audience
Taking the time to carefully define who your target audience is will help you with determining how to entice people to opt in. You have a specific group (or groups) of people who your product or service is targeted at and they will probably be motivated by some things over others.

An exercise that every business should do as part of their marketing work is to create buyer personas or "avatars." These are descriptions of the target customer which you can use to better tailor your marketing strategies.

For each persona, you want to create a clear picture of who the person is, what they do and what motivates them. You will need demographic, psychographic and geographic details to flesh out your personas and build a complete picture. Below is an example of a template from Digital Marketer: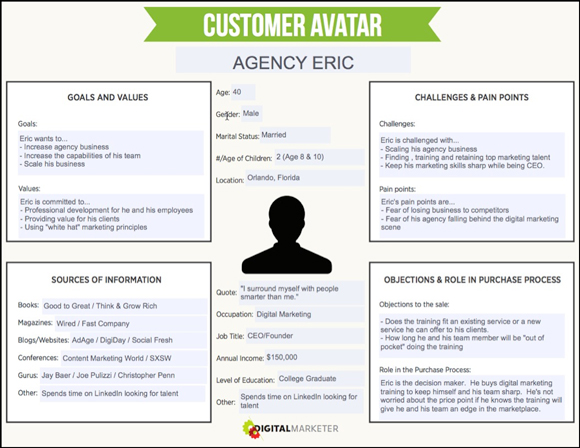 How to gain the trust of your audience
Another big factor that goes into getting people to opt in is whether they feel that you are trustworthy. This is an age where we're often a bit more guarded with our contact information, especially because spam and various scams are now quite well-known.

There are many things you can do to help gain the trust of your audience so that they'll be more likely to opt in. Here are some of my examples:
Be present and engage with audiences on other public channels. For example, many people check companies out on social media channels when they want to know more about them. If your profiles are mostly dead, that can indicate to them that you're not really an active business.
Be transparent about your privacy policies and what you do with data. People want to know that you'll never pass their details onto others.
Make it easy for people to opt in and opt out. It's actually a requirement of text marketing that you clearly explain how to opt out and make it easy to do. This has the added impact of showing that you're trustworthy.
Be mindful and respectful of your audience's needs when they do opt in. That means delivering on what you said the text messaging would be for and not blowing up their phone with constant messages.
Use social proof on your website and in other public profiles. Reviews and ratings can help to show that other people like and trust you too.
Where to get people opting in
Where and how will you get people to opt in for SMS marketing? Here are a few ideas:
If you have a "brick and mortar" store, you can use signage with a simple call to action. "Text "JOIN" to 55444 to receive our promotional offers."
Use sign up forms on your website and ask if people would like to opt in for text messaging.
Promote your SMS messaging through social media channels. You could link through to a landing page that asks them to sign up, or you could have your CTA on banner images.
Add a call to action to join your text list via any print marketing that you do.
Promote on voice advertisements (like radio or podcasts). This works best if you have a simple shortcode and easy CTA.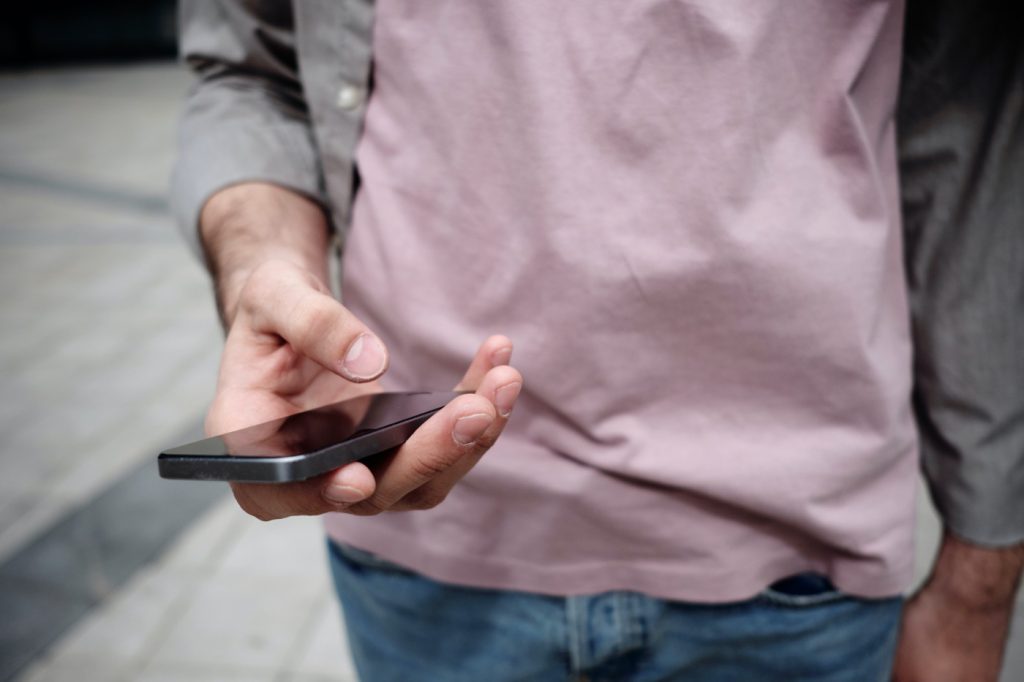 What incentives should you offer?
The short answer to this question is that you should offer something that lines up with the motivations of your target audience. You need to offer something that gives people a good reason to sign up.

WineText has a super-simple offer – people sign up to receive a daily wine deal via text. This is so popular that if they've ever missed a day, they get complaints that people didn't get their text message!

What will be attractive to your own target audience? Is it early access to your best deals? Could it be timely messages about how they can help? (Especially for non-profits or social-change focused organizations). What about VIP perks, coupons or an exclusive sign-up deal?

One thing that usually helps is if text messaging makes something more convenient for them (such as timely order updates), and/or offers them something they can't get another way. For example, perhaps people on your text list get first go at limited offers, before they are released to your email list.

One incentive that we are suggesting for merchants using TextRetailer's automation system is the "welcome offer." This automation is set up so that the subscriber will receive their first "reply to buy" product offer within minutes of joining the texting list. For this offer we recommend finding a product that has good margins (so that you can offer a "no brainer" price as an incentive), is consistently in stock (so your campaign can be "set it forget it") and is fairly popular (so people actually want to buy it). This can be a fantastic incentive for potential subscribers. For example, "Join our texting list and get X product for only $Y. This deal is only available through our texting list."

Structuring the welcome offer like this does a couple of things for you as the merchant. First, it provides a high chance of getting that first sale right away (this deal is amazing!). This demonstrates the value of the texting program to the new subscriber. Second, the TextRetailer platform is capturing the subscriber's credit card & shipping information when they complete their first purchase. This makes all future purchases completely friction free – the customer can purchase all future offers completely through text messages.
Final thoughts
SMS marketing is a great opportunity to reach customers almost immediately. To take advantage of this though, you need to get them to subscribe! All marketing text messages should only go to people who have opted in, and should provide them with an easy way to opt out.

Get more subscribers by building a clear picture of your audience and what motivates them. Make it worth their while to sign up and always work to promote trust with your audience.

TextRetailer helps you to get results from text marketing with savvy features such as "reply to buy" SMS campaigns. Schedule your demo with us today.