You might have heard the term "conversational commerce" being thrown around and wondered what's up.

Conversational commerce represents a great opportunity for brands to engage in two-way conversations with their customers, delivering what they need, when they need it. Text marketing is one of the channels primed to take advantage of the conversational commerce trend and get you in front of your customers.

How does it work and what can do to bring conversational commerce to text marketing? Here's the quick low-down:
What is conversational commerce?
Conversational commerce is basically as it sounds – using real-time conversation to sell products and services. The conversation may be delivered through any channel – text, chatbot, messaging platform, voice – the key is that it should be personalized and helpful to the customer.

The term "conversational commerce" originates from a 2015 Medium post by Chris Messina, in which he noted the trend of selling via voice assistants and communication apps. He states: "conversational commerce is about delivering convenience, personalization, and decision support while people are on the go, with only partial attention to spare."

Companies have discovered that, rather than trying to drive customers to interact with them on their own platforms, it's easier to meet customers where they are already. This fits in well for text marketers – at least 96% of Americans own a cellphone, while 48% say they'd prefer to hear from brands via text. Customers want conversation channels that are fast and familiar.
How does conversational commerce work?
Conversational commerce is a strategy that is closely linked with the different phases of the customer journey. The idea is that you can be there providing what the customer needs at each phase of the journey, building rapport and connection.

There are a few different versions of what the customer journey looks like depending on who you talk to, but for now let's use the model below, posted to Medium by Mark Visser.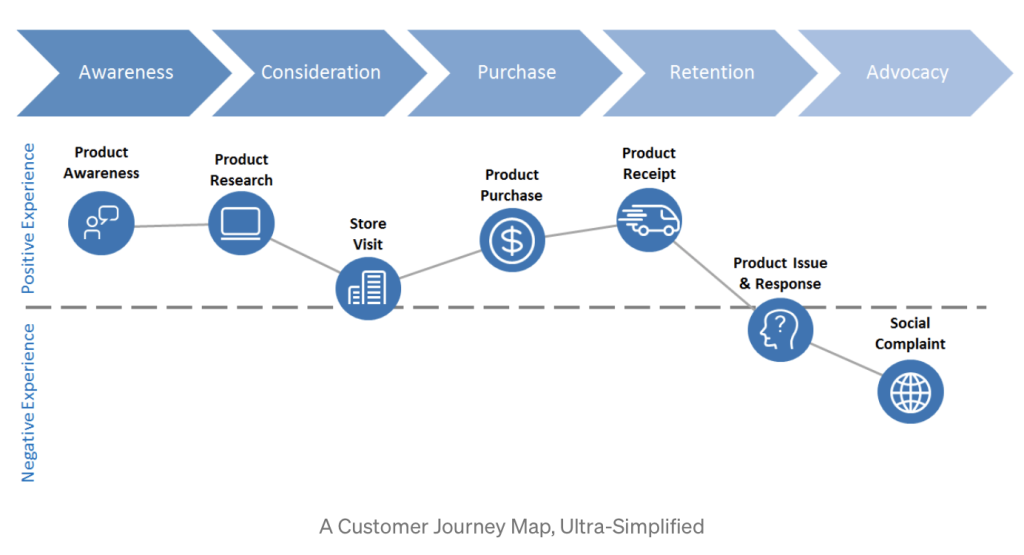 The short-and-sweet breakdown of each phase is:
Awareness – The customer discovers they have a problem and they run into your business as a potential candidate to help them solve it. At this phase, you need to be there showing the customer that you understand/have expertise in their problem.
Consideration – The customer has learned a bit about you and is comparing what you do with competitors. Conversation can be helpful for answering questions and making sure they clearly understand what you offer.
Purchase (or decision) – The customer is ready to make a purchase. Your conversation should reassure them about their decision and reinforce that you're the right choice.
Retention – This phase is about retaining the customer, maintaining good will with them and hopefully, encouraging them to come back for another purchase.
Advocacy – This is a goal state. Not every customer will arrive at this stage but you hope they will become enthusiastic advocates of your business. You might ask them for referrals or testimonials in your conversations.
Why does conversational commerce matter?
If there's a bottom line for why conversational commerce matters, it's because it meets the needs of customers where they want to be found and when they want to have a conversation. They get real-time responses to the questions they have right now. It's an opportunity for a more personal connection, which can often produce a superior customer experience and have better outcomes for sales and retention of current customers.

To put some numbers around it:
75% of customers are more likely to spend money with a business if they're able to message them, rather than call them. Of the possible channels through which you can do this, text messaging is just one, but it's a powerful option, with 98% of all text messages getting opened and read.
65% of consumers worldwide have said they'd like the opportunity to message with businesses, and yet, in the B2C space, direct messaging is under-utilized, with only 29% of consumers having experienced it.
Conversational commerce is an opportunity for retailers to do better at reaching their customers. Importantly, it's about two-way conversation rather than just pushing messaging out at customers. As an under-used strategy, it could even be your competitive advantage.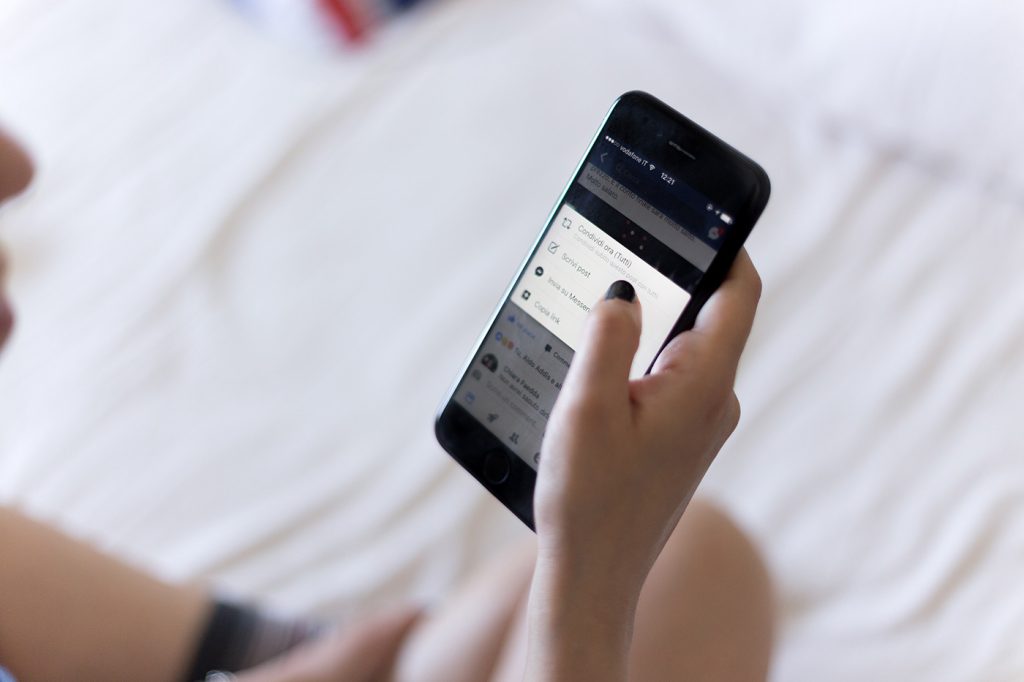 How to use conversational commerce on SMS
There are many ways you can use conversational commerce via text to meet with customers wherever they are on the customer journey. Here are a few examples:
Use conversational commerce to supplement automated responses
Here at TextRetailer, we have a great automated feature called "reply to buy" where customers simply reply to a marketing text message and they'll automatically place an order for the product from the message. This is a great, painless way for customers to order when they're already sure of the product, but what if they're not sure? 

That's where conversational commerce comes in. Somewhere around the consideration or purchase phase, the customer might decide they have a few more questions. Our one-to-one conversational feature means that customer support agents can engage with customers via text on an individual, personalized basis. They can answer questions, provide product guidance and even place orders on the customer's behalf. 

Automation is great, but it's not for everyone. Using a platform that allows you to have a good blend of automation AND real human interaction helps you to cover your bases. Automation can help you to scale your SMS program, while "real human" customer support is there for those that need it. 
Capture "non standard" responses and reply back
Many businesses use some form of automated text messaging, but not every customer will respond in a standard format. Sometimes customers will text a merchant's number outside of any automated flow (such as reply to buy), and you need to be able to capture and respond to those messages too.

TextRetailer has a text-to-email service that helps with this. If a customer texts the merchant's number outside of the "reply to buy" flow, the message is treated as a "conversation: message, which can be automatically forwarded to the merchant's support email. They can read any of those messages from within mail and can even reply to the email. TextRetailer will then convert their email reply to SMS and send it back to the customer.

It's another way you can use text messaging for more natural conversations with customers. All conversational texts can be managed from email, which is often easier than responding over the phone! We also offer an intuitive message center within the TextRetailer platform to read & reply to these messages.
Use to initiate conversation and promote loyalty
Text messaging can be a great way to invite feedback from customers who have purchased, recommend upgrades or new products, remind them to refill their order or send them offers that are personalized to them.

An important part of this is to be available! If you're going to offer text messaging, you need to be prepared to respond within a reasonably quick time. In fact, companies that do this tend to stand out to customers. People have become accustomed to (although are unhappy with) long waits for customer service, so being available to respond via text messaging can surprise and delight.
Final thoughts
Conversational commerce is about having two-way conversations with your customers on a channel where they want to meet you. Text messaging is a great solution for this, as almost everyone today is carrying a mobile phone! 

The idea is that you should be able to respond to the customer, or initiate conversation that can help them at any stage of the customer journey. It's another tool to help improve your conversions as well as retain your customers. 

Conversational commerce is meeting customer demand. Automation works just fine in many cases, until it doesn't. Customers want more convenient ways to converse with brands and get their questions answered. 

Schedule your product tour with TextRetailer today.