Text marketing is a great opportunity to quickly reach your audience.

You've only got a few characters to make an impression, so it's important that you make them count! Successful text marketers have honed their strategy and know how to send the right messages at the right time.

We're often asked about what makes for more successful text marketing campaigns, so here we're breaking down a few strategies that can help. How can you improve your marketing SMS messages?
#1. Learn to write effective messages
You've got a couple of brief seconds to capture the attention of your customers when you send out a text marketing message – what you say matters! Copywriting is a skill that top marketers spend years honing, but you can learn it over time. Here are a few best practices you can follow for your SMS messages:
Grab attention early
In the copywriting world, if you're looking at a web page or an ad, you'd always want to grab attention with your headline. In text marketing, you can sort of create a heading by making space at the top of your text message, as oVertone does below: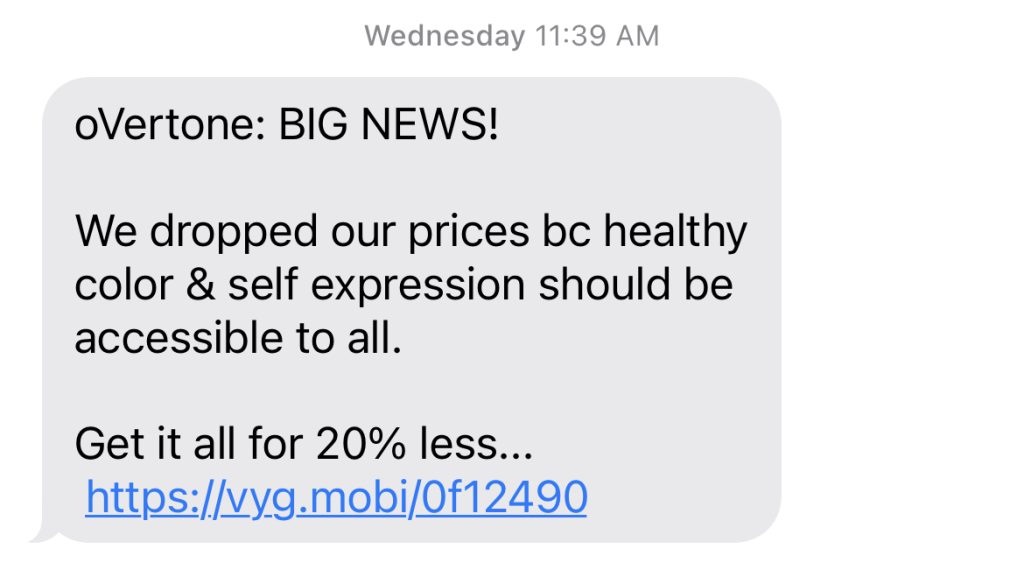 The key to the success of this message is that it's brief and gets their point across immediately. In fact, "keep it short and sweet" is another key tip for successful text marketing messages!

If you don't have such a short message that you can leave space for a headline, your first sentence is still the most important for getting attention. The primary purpose of your headline or first sentence is to encourage people to keep reading. If you look at oVertone's example above, their headline is basic: "BIG NEWS!" But use of all caps and the simple declaration that they have news will get their customers thinking "what?! What's the news?".
Avoid jargon or "text talk"
Any sort of industry jargon will usually make your messages unclear to your audience – unless they're a very specific niche that speaks the language! For the sake of clarity, jargon is best avoided. The aim of a text message is to get people to take action quickly, and they're unlikely to if they don't understand.

The same goes for text talk – the abbreviated language often used in text messaging. There are some commonly understood words you might get away with using, such as TXT, B4 or THX. However, messages that are riddled with text speak can easily be illegible or misinterpreted by customers. Not only that, it can often look unprofessional. You need to strike the right balance between the length of your message and its legibility.
Always have an ask
What is the purpose of your text message? There should always be an ask, or call to action for the customer. Do you want feedback? Do you want them to reply to buy? Do you want them to click on your link? Be specific about the next action you want them to take.
Personalize messages
Text messaging is a communication channel that most people use with their friends. In a similar vein, your business can chat with customers like friends too. Personalized messages are one way to do this; rather than a general "Hi friends," or "Hey," a message that uses their name can be more engaging: "Hey Sam, it's our birthday and you get the presents!"
Create urgency
When you have something on offer that is only available for a limited time, make sure you highlight this to the customer. Fear of missing out (FOMO) is real! Giving deadlines for offers or pointing out when there are a limited number available can galvanize people into action.
#2. Have the right incentives
There has to be something in it for your customers, both to convince them to sign up for text messages from you and to get them to take action on your texts. Each business is different, so it's important to learn what the motivators are for your particular customers.

Some typical incentives include:
Exclusivity – They can get access to something desirable that not everyone has. For example, exclusive discounts for text subscribers, or even limited edition products that are only available to text subscribers.
Connection and community – People like to feel that they belong somewhere and that others in the community are there with them. Sometimes being connected to what others are doing, buying or liking is a great incentive.
"First priority" – Similar to exclusivity, text subscribers could get the "first look" at any sales. This also taps into FOMO – if sales items are scarce, people want to get there first!
When you send out text messages, it's important to mix them up, too. Customers will learn to ignore the same repeated offer and then you lose engagement. If possible, make use of segmentation features for your list so that you can send relevant messages to each person. If you avoid being repetitive and consistently send out relevant messages, you'll get better engagement.
#3. Gather feedback
Gathering feedback is important for every business so that you can keep an eye on how people feel about what you offer. Text marketing offers a simple channel to request and gather feedback.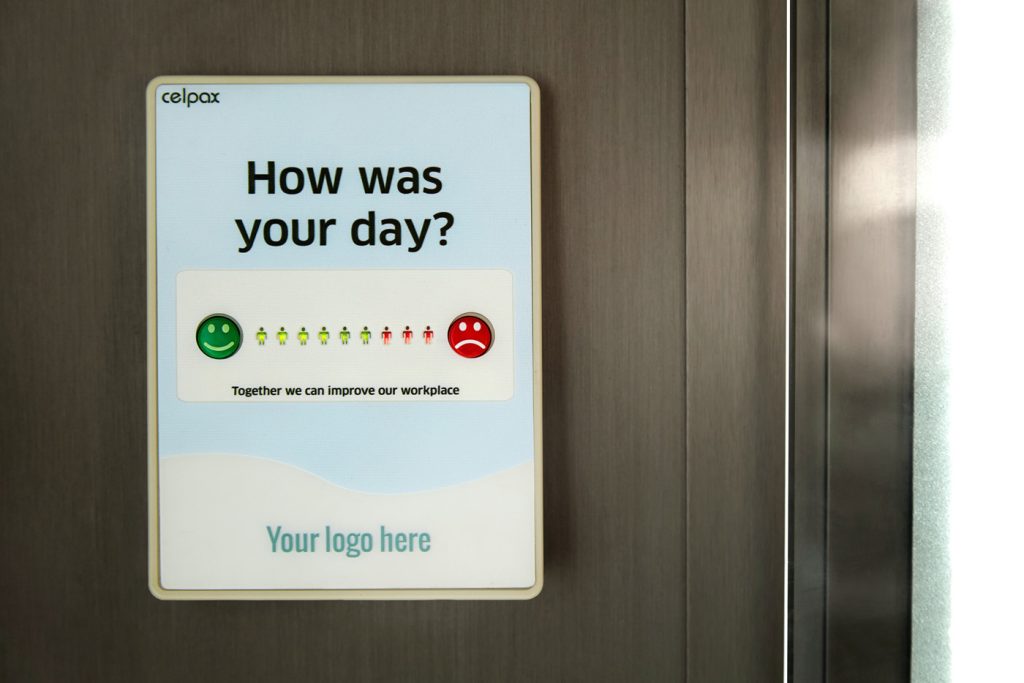 Here are a few ways to use it:
Send out surveys to customers after they have bought something. This could be a link to a survey that allows them to answer questions on a scale of 1-5, with a yes or a no, or with some free form options, where they can type feedback. This could even link to an option to leave a review.
Send out brief, one question surveys. Customers could be asked to respond with a thumbs up or thumbs down emoji, with a yes or no, or with a quick answer that they type.
Send out one question per text. For example, "Are you willing to answer a few brief survey questions? (Reply "Yes" or "No" to continue)." For those that respond "yes," send out one question at a time that only requires a brief response.
Request they submit a review. You could text customers who have bought your product or service and include a direct link to review it.
Ask them how satisfied they were with a recent customer service interaction.
One of the keys to getting good, reliable survey feedback is to make the form of response clear. For example, if you're using a rating, explain what each number means. If you're after a yes or no answer, make sure your question is clear so that it makes sense to the customer whether they should choose a yes or no.

Apart from that, you'll usually get a better response rate if you keep surveys as short and sweet as possible. Consider what your ultimate goal is for gathering feedback and prioritize questions that will suit that goal.
Final thoughts
Text marketing gives you the opportunity to immediately reach people. Most are never very far from their mobile phones and will check them frequently. 

To enjoy successful text marketing, consider these strategies. Learn to write a persuasive message, grab attention, offer the right incentives and stay on top of feedback. Text can be an opportunity to see better engagement than you will with email or other forms of communication, but only if you keep it relevant, quick and convenient. 

TextRetailer offers text marketing for businesses, including our unique "reply to buy" feature. To schedule your free product tour, click here.